I have been busy all day and just now had a few minutes to share my last design for the Crazy Fifteen Challenge.
I really like this one and the colors are so different from what I have been stitching. Only two of them so no problem with color changes.
I am stitching it as a companion piece to My Lady's Quaker.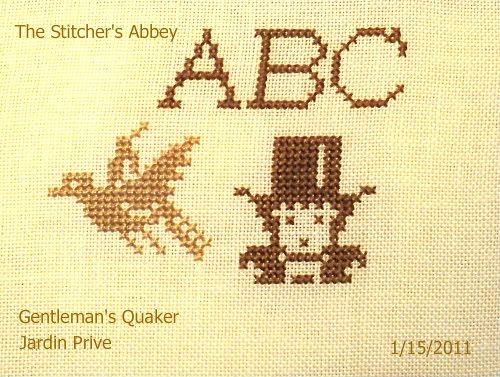 Gentleman Quaker
Jardin Prive
28 Count Lambswool
DMC 839 & 841
I am thinking about continuing on this one for another day before I decide which other one to stitch on. Actually I want to start Real Roses over on a different fabric as the fabric in the kit is not doing the design justice.
Also I have two small ornaments I need to stitch by the end of the month. It might be a releif to stitch on something and finish it straight away. I do need a couple of finishes for 2011.
I want to thank you all for the nice comments, they have helped me get through these fifteen days.
Take care and talk to you soon,