Today has definitely been a day for crows. The snow was here when I awoke at 3 A.M.
I couldn't go back to sleep right away so I watched it coming down for a while and worried about my DS getting home from work at 6. He has a 35 mile commute. He is a good driver under these conditions from living in Idaho. But driving in South Carolina is a whole new ball game.
It took him almost an hour and a half to get home but he arrived safely. He had to go back tonight and left at 4 o'clock. There will probably be black ice in the morning.
We have 2 small birdfeeders on the front porch and have had a lot of finches and cardinals, some doves and some small sparrows come to eat. This morning we had a lot of crows visit. The whole porch was covered and they were fighting over the seed. The small birds and the cardinals didn't get anything. Later this afternoon I filled the feeders again and they got to eat.
Day 9 selection for The Crazy Fifteen Challenge was Ida Mae Crow by The Goode Huswife. I am stitching her as a companion to Ira Ray Crow. I actually got a bit done while watching the weather updates and the crows outside .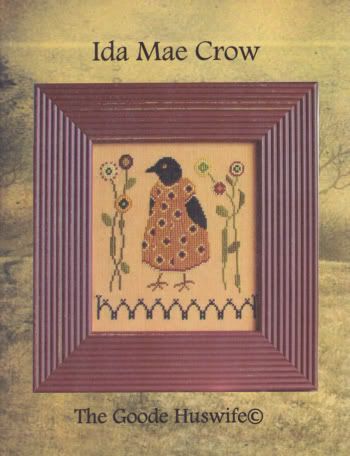 Ida Mae Crow
The Goode Huswife
32 Count Linen
Dmc Floss
I am signing off for now and going to snuggle up with Buffy and Abbey. I amm having a problem with Buffy. She refuses to go out in the snow. She hates it.