We have been having rain and colder temperatures the past few days. It is better than snow and ice, but I am waiting on some sunshine..
I went to LNS to pick up a couple skeins DMC. Big mistake. I have been wanting Blackbird Designs Pumpkin Time. I just love the colors in this design. Guess what I came home with?
They also had a basket with discontinued colors of Weeks Dye Works. I got 18 skeins for $4.00.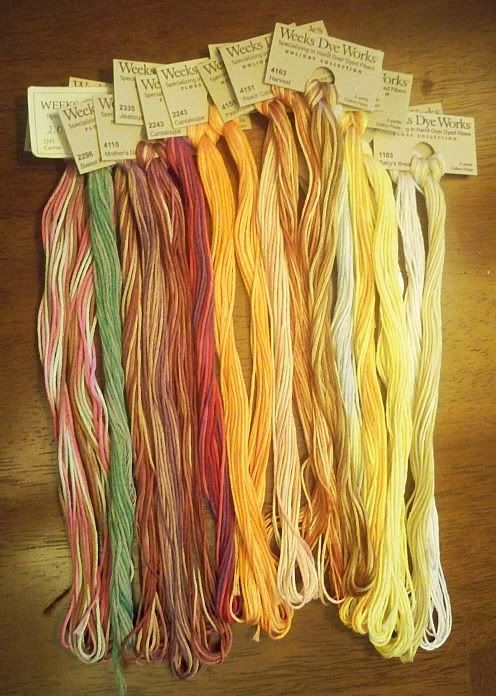 I have a little progress on Sixteen Birds by Karen Kluba of Rosewood Manor. I put Real Roses away for a while so I wouldn't get burned out on it.
Sixteen Birds
Rosewood Manor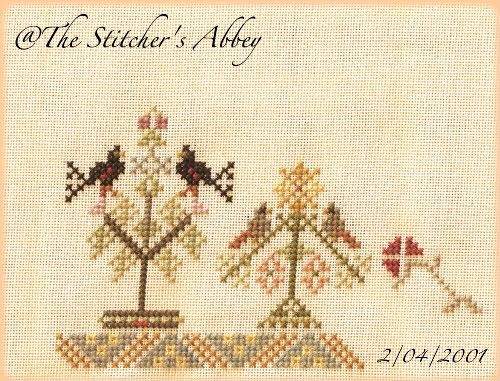 Progress on Sixteen Birds
Rosewood Manor
28 Count Lugana
DMC Floss
 I am stitching on something for a gift. I cannot show a picture or say what it is or who it is for because I think the recipient might read my blog. I am also going to see if I can get another band finished on this one.
I am setting more goals for February. I really would like to stitch at least one Valentine design. I would also like to finish one of my Fifteen Challenges.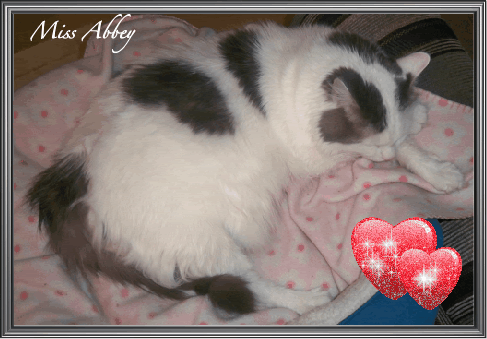 Buffy and Abbey have two beds but this is the one they fight over. Neither one will sleep in the other one. Abbey settled in for a long nap while Buffy was looking so sad.